The engine is arguably one of the most important and more costly components on your boat apart from the boat itself.
While here at Haines Hunter HQ, we suggest the recommended horsepower rating for the hull – which you can see on the CPC plate - it does give you the buyer a couple of options and decisions to make as to which HP outboard is going to be right for you.
A single 115 to 150hp four stroke outboard will produce a reasonable performance for a 5.5m boat such as our SF545, depending on the load. With it, a trailerboat in this range can have a top speed from 35 to 40 knots, with cruising speeds in the early 20's.
"A lot of it comes down to hull efficiency," says HQ Retail Manager, Dennis McCorkindale.
"The more efficient the hull, such as a Haines Hunter, the less horsepower you need with the outboard."
When deciding which outboard is best for you, consider what level of horsepower will best meets your needs.
A great way to do this is to calculate the anticipated total weight of the boat including passengers, fuel, gear and accessories. After you've done this, consider what cruise speed you would like to attain and how far you plan on going in a normal day. This will help determine which horsepower range is best for you. Again, your Haines Hunter dealer will have the best knowledge and be able to best advise you on what is going to suit your needs.
For boaties wanting to tow water skiers and wakeboarders, they should consider engines with strong torque in the lower RPM ranges because it takes lots of power to get riders up on their boards. And even more, power is required when there is a boatload of passengers aboard.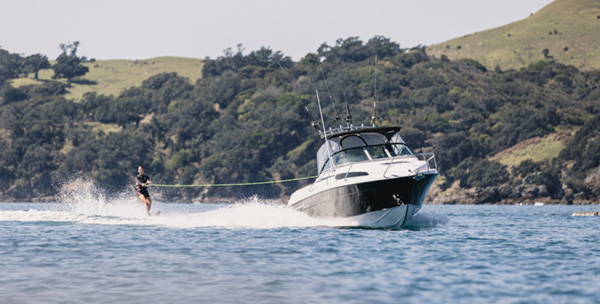 "If you are going to do a lot of water sports, tow tubes, skiers etc, we advise a higher horsepower four-stroke outboard with the appropriate propeller set up. Though it isn't common, on occasion we do spec some boats with the Yamaha VMAX outboard, which is the higher output four stroke option."
Likewise if you are going to take a number of people out diving, you will need to consider them and their dive gear, and hopefully a healthy catch for the return trip home!
"We typically find that owners request the higher horsepower outboards when they want increased responsiveness with the outboard. This is generally in situations where they are taking 3-4 divers, plus gear and they are crossing the bar. They want the extra horsepower if they are outrunning something – aka a wave."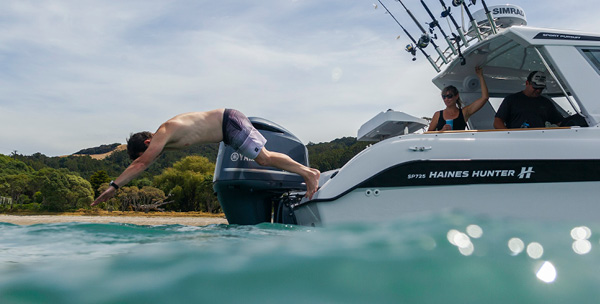 If you're unsure what will suit your needs, the Haines Hunter HQ sales team will have all the available performance data on the boat with different engine combinations. Going with the maximum rating, found on the CPC plate, is a pretty safe bet. And when was the last time you heard someone say they bought a boat with too large a motor?