Auckland Outboard Servicing
Haines Hunter HQ is an authorised Yamaha service centre based in Ellerslie, Auckland. HQ services not only Yamaha, but all major brands of outboard motors including Mercury, Suzuki and Honda. Being just 2 minutes from the Ellerslie off-ramp, getting to and from HQ is easy.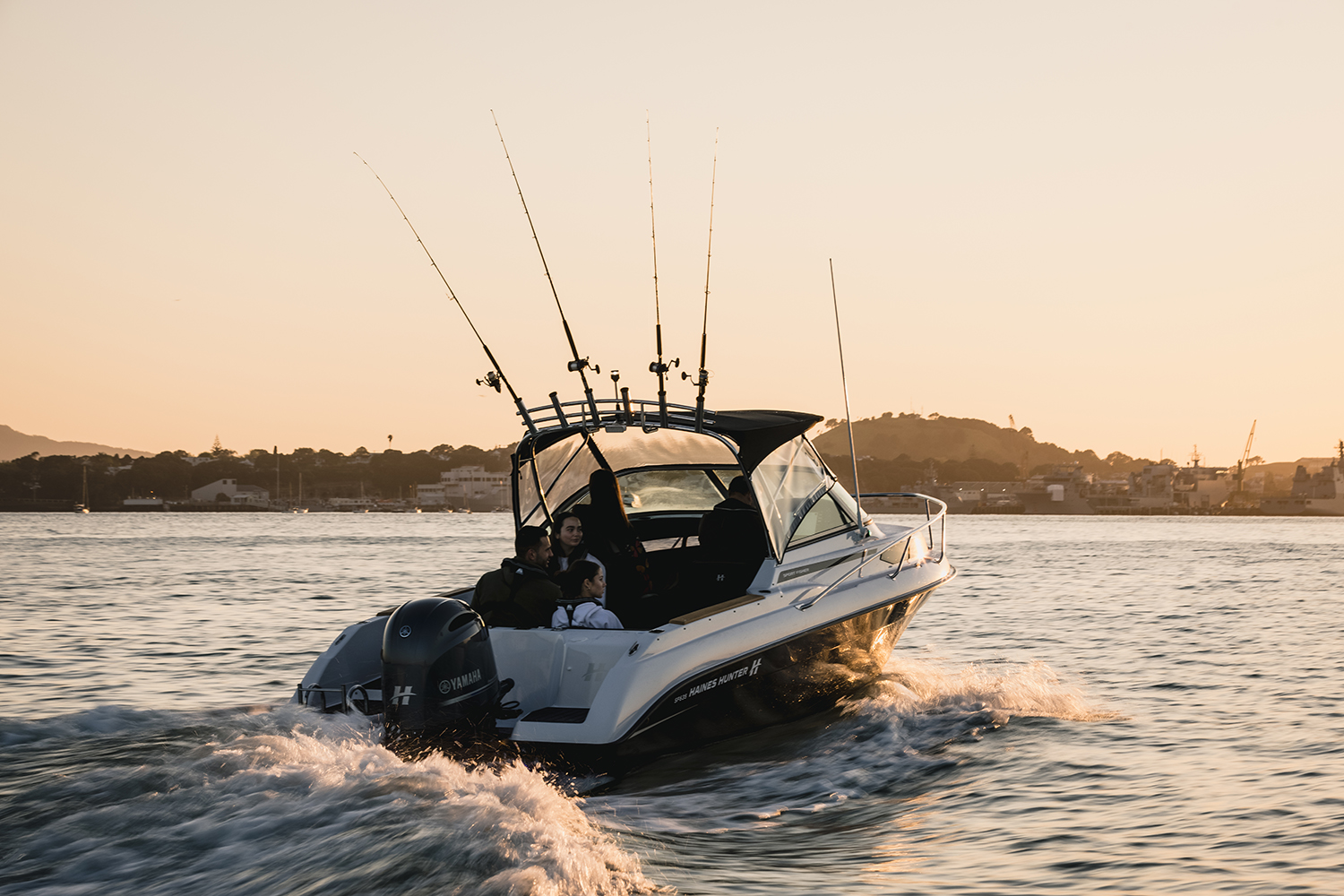 Outboard Maintenance and Servicing
Regular servicing and correct maintenance are vital in ensuring you will enjoy your boat for many years to come. Correct service and maintenance help keep you safe and increase the overall reliability of your outboard motor. But high load, high-RPM operation, extreme temperatures and humidity, saltwater, sun, even long periods of non-use, can all exact a heavy toll on your engine which is why regular servicing of your outboard is so important.
What is the average life of an outboard motor?
With the right care and attention, the outboard motor on the transom of your Haines Hunter is manufactured to provide you with years of use. In fact, if your outboard motor has a regular maintenance and service schedule, it's not unreasonable to expect decades of use from your motor.
How often should you service your outboard motor?
You should service your outboard yearly before the start of every summer season of boating. From new, the outboard would require a service after 20 hours of use, then every 100 hours or an annual service thereafter.
How much does boat engine maintenance cost?
The cost to service an outboard can vary depending on the size of the engine itself. We service all major 2-stroke and 4-stroke outboard brands, including Yamaha, Mercury, Suzuki and Honda. Contact Haines Hunter HQ for a quote.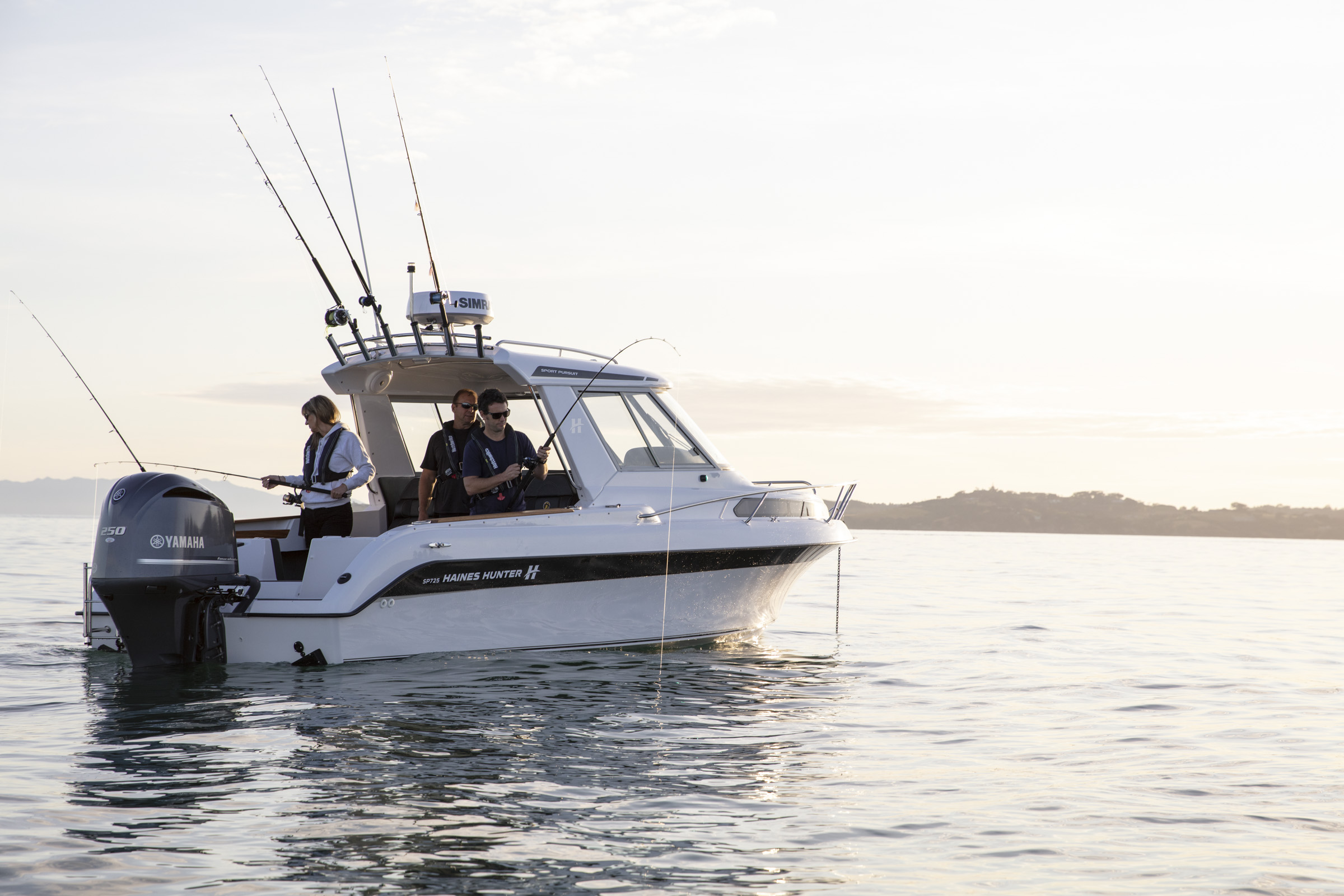 How much does it cost to overhaul an outboard motor?
If your outboard motor is in need of some maintenance and repairs, talk to the Haines Hunter HQ service team. Alternatively, talk to us about some of our Yamaha repower options. We have a wide range of 4-stroke engines available from 2hp all the way up to 425hp.
What maintenance is required for an outboard motor?
Spending a relatively small amount of time making sure your outboard is in proper condition is simple to do, and:
- You'll have more hours of trouble-free enjoyment on the water.
- You'll preserve your investment with a higher resale value.
- Your boat will be ready when you are.
- It's easier and costs less to maintain than repair.
So what are the basics? Keep your outboard ready to run with basic maintenance like:
- Changing engine and lower unit oils every 100 hours
- Regularly flushing with fresh water after every use
- Replacing fuel filters periodically
- Helping to prevent corrosion
While the trained service technicians at Haines Hunter HQ can do all of the big jobs, there are things you can do in-between service intervals to help maintain your outboard motor and to help with the ongoing reliability and performance.
Check Your Outboard Motor Oil Level
The oil level check procedure for your Yamaha 4-stroke outboard is a bit different than the procedure for your car. It's easy to get an accurate reading if you follow this procedure:
- Start and warm the outboard to normal operating temperature, then shut it off.
- Tilt engine up halfway and allow to rest for 5 minutes to thoroughly drain the oil back into your outboard's crankcase.
- Trim the outboard back down to level. You can place a small level on top of the anti-ventilation plate to help you determine when to stop.
- Pull the dipstick, wipe the oil from it and re-insert it in the crankcase. Then pull the stick again and check the oil level. This helps ensure proper venting for accurate indication.
- At the proper oil level, the oil should be halfway up crosshatch pattern on the dipstick.
Tip: The top and bottom of the crosshatch pattern on the dipstick do not represent "high" and "low." The correct oil level indication is at the mid-point of the pattern. Use caution when filling or adding oil. Yamaha 4-stroke outboards have a tapered oil sump design (smaller at the top than the bottom), so the closer the oil level is to full, the faster it fills.
Therefore, add oil slowly and in small amounts, and do not attempt to "top off." Do not allow the oil level to surpass the upper portion of the crosshatch pattern. Doing so may result in aeration of the oil, reducing lubricity and oil pressure, and may cause eventual engine damage.
Outboard Motor Lower Unit

Check for Damage

Visually inspect the exterior of your lower unit for any signs of damage every time before you go out. If you fish, it's a good idea, every 50 hours or so (or when necessary), to remove the propeller and check for any fishing line or other debris that may be wrapped around the propeller shaft. This can cut into prop shaft seals and potentially allow water to enter the gearcase.

If found, here's what you should do:

1. Visually inspect the prop shaft seals for damage or leakage.
2. Check the colour of your lower unit lubricant by cracking the "drain screw" on the bottom of the bullet and the "vent screw" on the side of the lower unit.
3. Allow a small amount to drain into a clean container. If the lubricant is milky in colour, there is water in the lubricant.
Have the lower unit seals inspected by Haines Hunter HQ through a pressure test, and if necessary, have the seals replaced. Pressure testing a Yamaha lower unit is best performed by an authorized Yamaha Marine dealer, because depending on findings, it may be necessary to disassemble the lower unit for further inspection.

It's best not to run the outboard right before checking the lower unit lubricant, as this will agitate the oil with whatever air is trapped inside. The resulting fine bubbles might be confused with the milky appearance that occurs with water ingestion.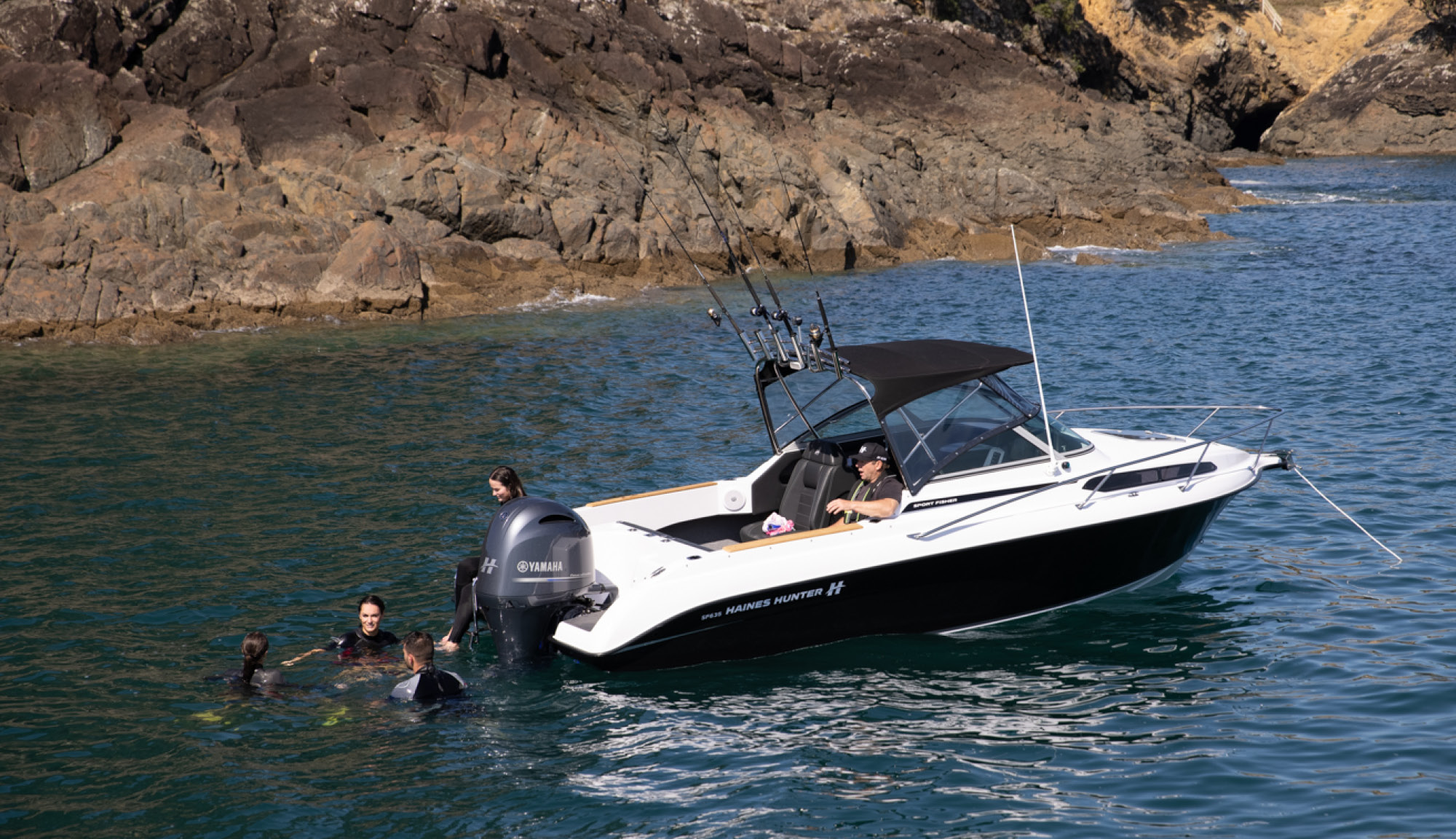 Outboard Motor Power Trim & Tilt (PT&T)
Your outboard's power trim and tilt unit changes the outboard's thrust angle during operation for maximum performance of both your outboard and your boat.
It's electro-hydraulic, meaning an electric pump moves hydraulic fluid upon command from the operator, tilting the thrust angle out or in.
It's positioned inside the engine bracket, meaning almost constant contact with water, and, depending on where you boat, that can mean saltwater. Still, under normal conditions, this system needs only minimal care to function properly.
Clean & Lubricate
Make sure to include the PT&T unit in your routine post-trip flushing and wash down procedure. For best effect, first run over it gently with a sponge or a soft cloth soaped up with mild detergent. Then, spray the whole unit down with fresh, clean water.

Periodically grease the top of the trim rams on your PT&T unit to help keep them safe from corrosion and to eliminate those annoying, but harmless, squeaking and popping noises. Be sure to use a high-quality marine-formula grease, so it won't wash off so fast.
Protect the Outboard Motor Power Trim & Tilt
Keep the trim rams fully retracted when not in use to prevent corrosion build-up. Engage the tilt lock mechanism built into the outboard's bracket.
Then, withdraw the tilt rams into the unit by pressing the PT&T down button until they are fully retracted. This keeps all but the very tip of the ram immersed in a bath of PT&T fluid and safe from corrosion. Liberally apply Marine Grease to the ram tips to help keep them corrosion free, too.

The built-in tilt lock mechanism is for maintaining tilt for storage or periods of non-use only, such as when mooring. Do not trailer using only this mechanism to support the tilted outboard.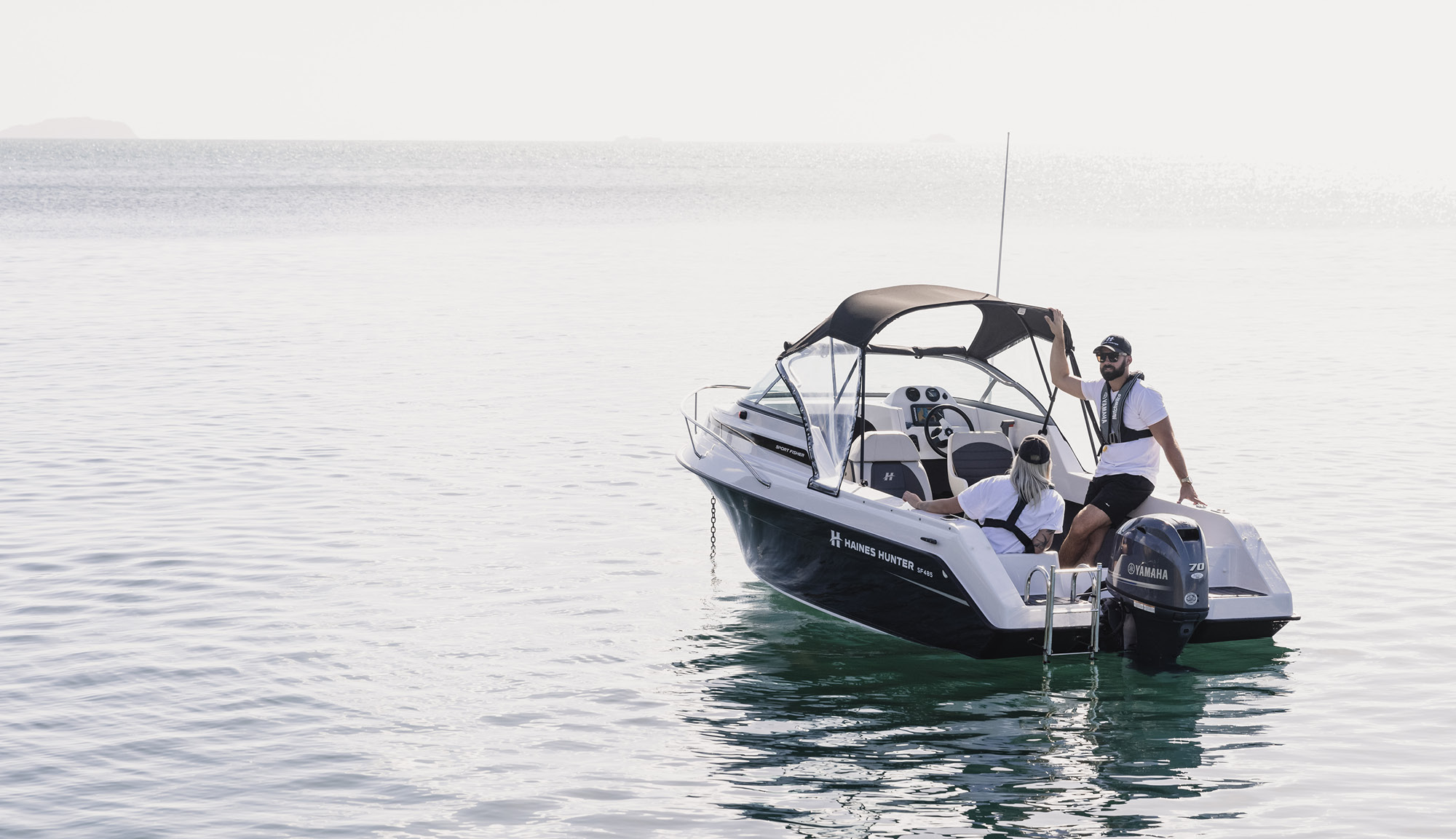 Maintenance is vital
Everyone knows that the ocean is a harsh environment. Salt corrosion can and will affect the performance of your boat's outboard motor if not properly maintained.
No matter how old your boat's engine, it's important to keep your maintenance regular. If you're looking for advice or want to discuss a service plan, speak to the HQ team today. Call 09 579 9661.
Ride on!