Haines Hunter Day, a celebration of boating.
As part of the National Haines Hunter Day, the Maraetai Beach Boating Club organised an Auckland event. Due to take place on the 12th February, it had to be postponed due to the unwelcome arrival of Cyclone Dovi. But, the wait was worth it!
Maraetai Beach Boating Club is located on Auckland's Pōhutukawa coast. With amazing views of the harbour out to Waiheke and Ponui Island, it's only a 40 minute drive from the city.
In Māori, Maraetai means "meeting place by the sea", and as the name suggests, a group of eager Haines Hunter fans met for the inaugural Haines Hunter Day.
A stunning sunrise greeted the boats as they began to arrive by road and sea. Haines Hunter boats of all ages and length were in attendance, from SF535's, SF600's, SF700's to SS660's and SP725's.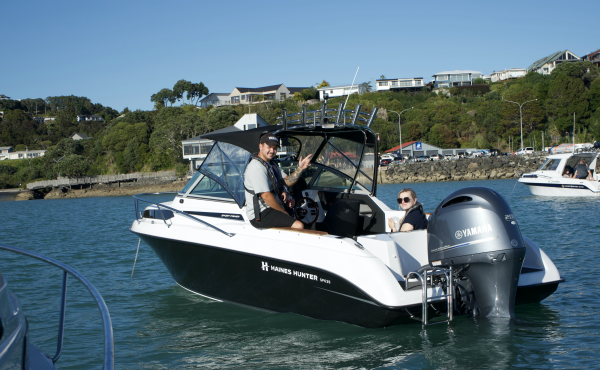 Ian Twist, the event organiser, and Warrick the club warden, marshalled the boats onto the ramp and out to the muster area beyond the breakwater. The club has two boat ramps, one with a handy finger that's sheltered and made launching a breeze.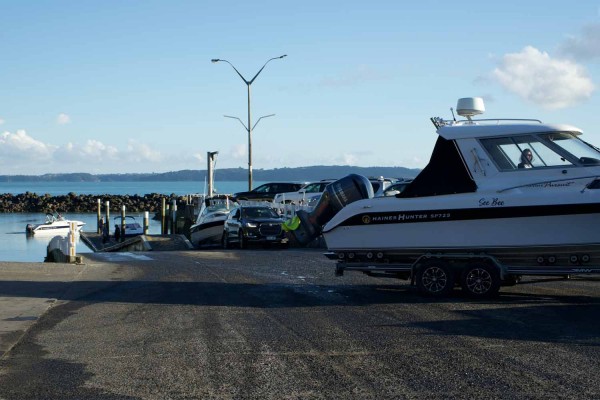 At 9am, as the last of the boats gathered, the announcement was made to hit the throttle and head out into the Tamaki Straight. With motors singing and yells of delight, the fleet spread across the harbour heading to Pakatoa Island. It was a thrilling site to behold!
Just half an hour later the island came into view, it's white sandy beaches and stunning blue water an inviting sight. At 24 hectares, Pakatoa is privately owned, with beach access via the bay on the Northern side, up to the high tide mark only (public entry beyond the high tide mark is not allowed).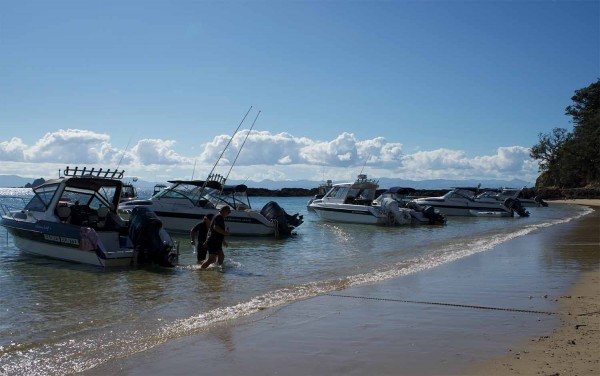 The fleet motored into the bay and spread out along the beach while others anchored and took to their inflatables for a short row to shore. With sunscreen applied and smiles aplenty, the group gathered on the beach for an informal briefing and a meet and greet. After a few fun games and some good laughs the water came calling.
"Who needs to go to Fiji when we have this on our doorstep. The water is so warm!" exclaimed one eager swimmer, leaping from their SS660 into the water.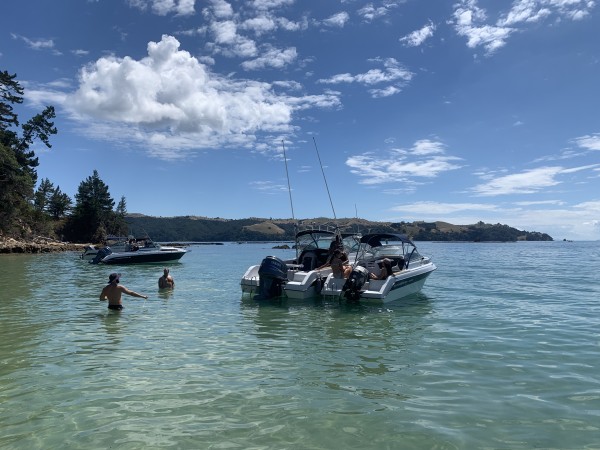 Jill, another 660 owner, commented "We have done a couple of cruises in Greece. We bought the boat as we realised we had this tropical paradise right on our doorstep!"
After a great few hours, the departure time rolled around. With goodbyes given, boats headed back to the club where they were greeted by the HQ team manning the BBQ. Over a few refreshments stories were shared and friendships strengthened.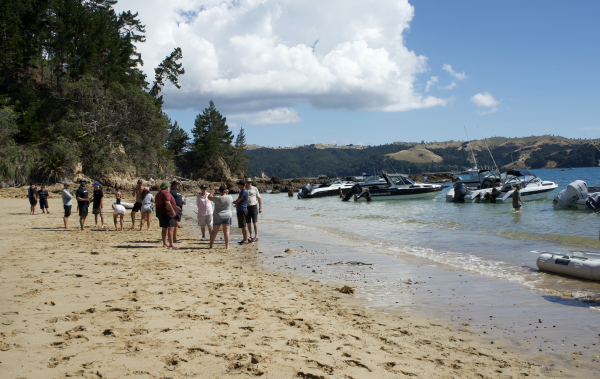 A truly great day out!
A big thank you to Ian and the Maraetai Beach Boating Club team for hosting the day. Pencil in Saturday 11th February 2023 for the next Haines Hunter Day…we can't wait!